THE ALL-IN-ONE TEACHING PLATFORM
Build, Teach, & Share Your Curriculum
This is no ordinary learning management system – it's also a complete content authoring and distribution platform that helps you teach others.
Content creation, delivery, and monetization tools to reach anyone, anywhere
AccuSkills is a complete suite of cloud-based tools designed for online teaching and learning. From corporate training to academic instruction, AccuSkills helps you create, sell, share, and buy content modules with robust classroom and online tools. Deliver quality education, training, certification, and information to your audience in an engaging, intuitive way.
Content Authoring Tools
Create engaging multimedia lessons that can be mixed and matched to build custom learning paths
In-Person Training Classes
Classroom support tools help you deliver, manage, and track your in-person curriculum
Online Certification Courses
Build and monetize self-guided, branded certification courses to reach students anytime, anywhere
Fully-Brand Your Online Academy
URL map your fully white-labeled account with your own text, mages, and fonts for a branded experience

Universities want to prepare students for the real world, empowering them with the best tools available to succeed in the job market.  At the same time, companies at the cutting-edge of innovation need to expose and train new customers on their products and services, find qualified employees, and unify the corporate learning culture.
AccuSkills helps link industry and academia, allowing both corporate and academic institutions to create, buy, and sell curricula to each other.  The business world moves quickly, and AccuSkills helps bring the boardroom and the classroom up to the same speed.
Training made Simple, Flexible, and Up-to-Date
No matter who you're training- whether it's employees, potential customers, or selling your training to clients, AccuSkills' intelligent training platform accelerates the learning process to help you achieve your training goals.
Reimagined productivity and management tools put incredible power into your hands, so one person can effortlessly create, manage, and administer a training program for thousands of people. 
Create and manage hundreds of learner accounts in a few clicks, build beautiful certification programs in less than a minute, craft stunning training presentations without any coding, and fully white label AccuSkills to match your brand's look and feel.
Create, synchronize, administer, and share your curriculum​
Enjoy a powerful, centralized system where administrators, teachers, and students can create, share, and collaborate to create a cohesive learning environment.
The modular system unifies instructors through shared educational content, while providing the flexibility to craft individualized classes tailored to the needs of students. The streamlined interface makes AccuSkills adaptable to nearly every classroom with comprehensive tools that meet the demands of your school's learning environment.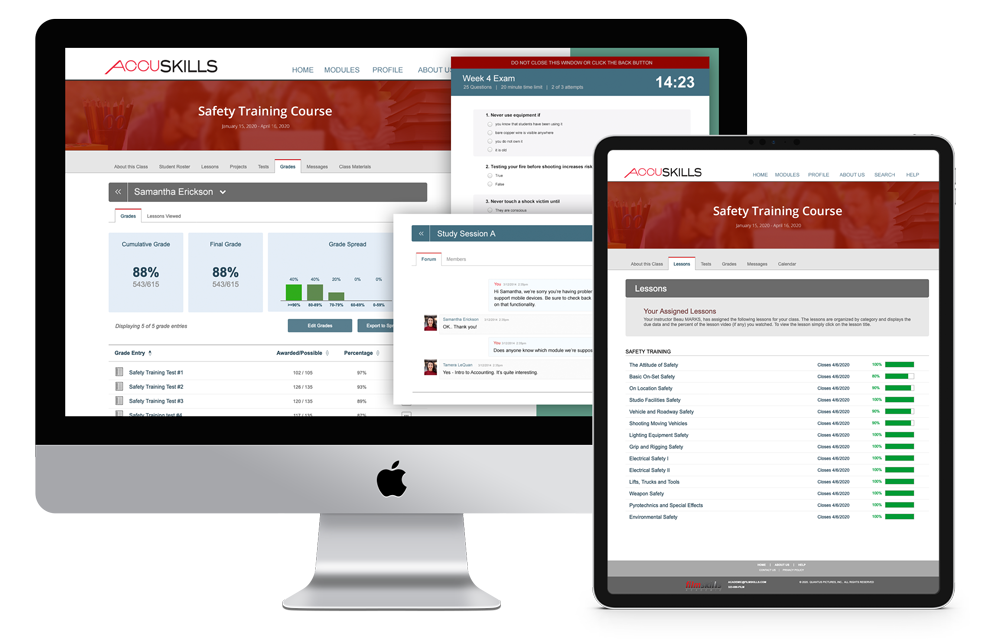 Want to learn more about integrating AccuSkills into your curriculum? Contact us for a free consultation.